Movement
Overview
Horse Movement records have been given their own specific window due the unique nature of the data being recorded.
Note: The initial movement record can also be created from the Main Horse Details tab.
Selected Horse List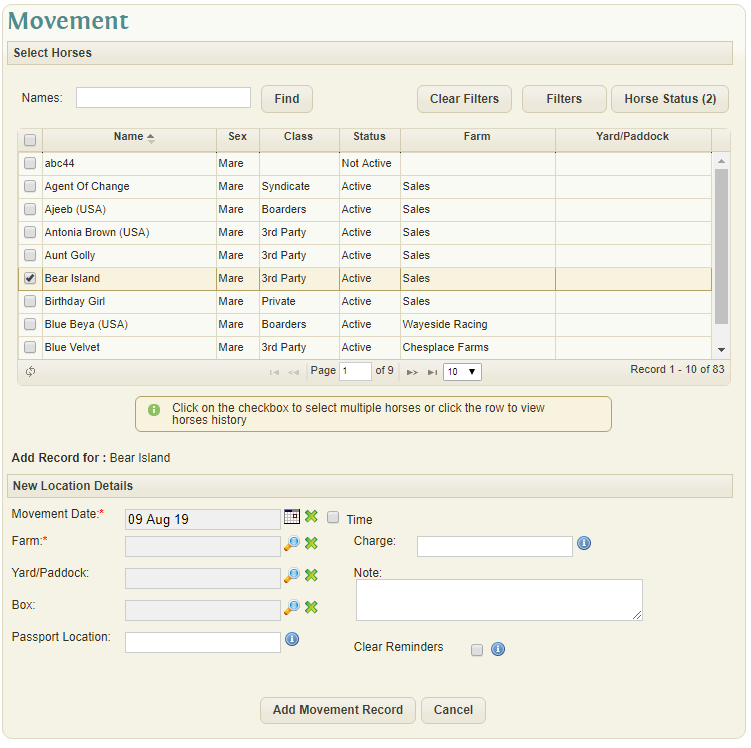 Use the checkbox on left or click a line in the snapshot to select the horse or horses required.
The checkbox located in the snapshot header can be used to select all Horses. This portion of the screen can be unpinned and hidden by clicking the Pin.
The system will show the number of horses you selected in the heading of the section. The Horse List snapshot can be sorted by Horse, Colour, Sex and Class by clicking the various headings.
Clicking the 'Filter' button in the footer of the Horse List snapshot will show the filter options for the list. Using these selections the user can filter the Horse List based on individual Horses, Sex, Class, Current Location and the age of the Horse.
To see the previous history of movement for a horse, click the expand icon '+' for the selected horse.
Click to view History of Movement...
If no records are found, system will display 'No Movement Details for Horse'
New Location Details
Movement Date: (required) System defaults to today's date. Use date picker to change.
Movement Time: Click the checkbox if time moved required.
Farm: (required) Select the farm or location horse is to be moved to. Mandatory
Yard/Paddock: Optional, select from list if required
Box No.: Optional
Notes: Optional notes for the movement
Updating Location
To Update click the 'Add Movement Record' button.
The System will respond with a confirmation details popup. A snapshot of the selected Horses with their previous location info is shown and the new location data is displayed in info box 'New Horse Location Details'
Clicking the Save Button will process and create a Movement for each of the selected Horses. Clicking the Cancel Button will cancel the Movement.
If the Movement was successful, the latest movement will be available to view in the Selected Horse List snapshot by expanding the details for a selected Horse.
Details of the Movement Note can be edited by clicking the Edit button in Movement History snapshot for a Horse.
Movements can also be deleted by clicking the Delete button on the snapshot. If deleted then the Horses current location will revert to the next most recent movement location.
Videos