Settings Company Details
The Company Details allows the user to personalise the system based on their own details, including Company/Farm Information, Company/Farm Contact Details, default System Parameters and Billing Options.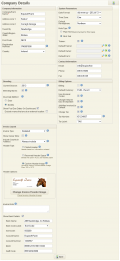 Company Information
Company/Farm Name: The name of your Company or Farm. This can be optionally printed on Invoices, Statements and Departure Forms
Address Line 1: First line of your Company/Farm address
Address Line 2: Second line of your Company/Farm address
Town/City: Town/City of your Company/Farm address
County/Region/State: County/Region/State of your Company/Farm address
Post Code: Post Code of your Company/Farm address
Country: Your designated Country. Defaults to the country selected in the Registration Process
System Parameters
Date Format: The default date format. The format chosen will be used everywhere in the system including reports
Time Zone: The default Time Zone. Select from the list of standard world time zones
Default Hemisphere: Northern or Southern Hemisphere. This is used in the rolling forward of mare breeding records i.e. setting foal due dates and clearing stallion names. The actual process can be done at any time after the end of the covering period in each hemisphere.
Breeding Mares: Clicking this checkbox will activate the "Breeding Details" screen in the main Horse Window. It will also show programs for stallion covers in the relevant Menus and drop-downs
Current Breeding Season: If the Breeding Mares checkbox has been selected, this field is available to enter the current breeding season for your mares
Trainer: Select this option to indicate that you are a Trainer
Default Trainer: Click the search icon and all trainers in the database will be shown. You can choose your default Trainer which will be used for report selections
Default Owner: Click the search icon and all owners in the database will be shown. You can choose your default Owner which will be used for report selections
Default Farm: Click the search icon and all farms in the database will be shown. You can choose your default Farm which will be used for report selections
Contact Information
Email: Your email address
Phone: You contact phone number
Fax: Your fax number
Breeding
Current Season: Indicates the current season. Note: At the end of the season the End of Year wizard should be used for breeding farms.
Breeding Mares: If selected breeding options will be enabled in the system including a breeding details tab on a mare's horse record.
Due Date Method: (Days or Months) is used by End of Year wizard to calculate foal due date.
Billing Options
Indicates if a subscription to the Billing Module has been paid for. If using the Billing Module, Horse related invoices can be generated in the database
Default Currency: Your designated Currency. Defaults to Currency selected in the Registration Process
Use Nominal Codes: Mandatory if the Debtors Ledger Module is used, optional if only the Billing Module is used.
Charge Keep for Day of Departure: If this checkbox/flag is set it works as follows: e.g. A horse arrives on 1 July 2010 and leaves on the 12 July 2010. Total days charged is 12, otherwise it will be 11 days
Activities Invoiced by Default: : Indicates if Daily Activity Input items will be invoiced by default. If not selected then Daily Activity Input items will not be invoied by default, but this can be manually changed on each input item
Charge Tax: Indicates if tax should be used in the system
Tax Number: Company's registered Tax Number
Tax Label: Select variable tax label from the Drop-down list. It will be used throughout system
Use EU Vat Rules: EU TAX rules will be used when calculating Invoices. When an owner is in an EU country different than that of the main account and has a TAX Number, the TAX code will be overridden with the Exempt TAX code.
Invoice Layout
Invoice Type
Detailed
All items to be charged will be shown from the individual Activity records.
With this setting there are summary options available to you. When creating "Activity Codes", you can set a code to have a summary bill setting of:
None – e.g. If 6 wormer records of "Equest" to be charged it shows all 6 items on an invoice.
Code – In our example, the 6 records are totalled to show a value for "Equest"
Group – In our example, the 6 records are summarised and shown on an invoice as "Wormer"
Summarised
All records for an Activity Type are totalled and appear as one line on an invoice.
Header Options
   Printed Header Header based on information entered
   This is the default option in Equisoft Live. It will create a textual header based on the information entered in the system.

   Reserved Header Space Select this option if you use headed paper
   This option creates white space at the top of each invoice so that it can be printed onto pre-printed headed paper.

   Custom Header Image Upload a custom invoice header image
   Option allows a custom image to be uploaded and used as the invoice header. 
   For best results please design the image to the dimensions listed below. 
   All images uploaded will be resized automatically.
   Size: 320 x 1072

Bank Details
Bank Name
Bank Code Label
Sort Code
Account Name
Account Number
IBAN
Swift Code
Miscellaneous Settings
Show Owner Silks: If checked, Owner Silks will be displayed on the invoice. Note you can upload Owner Silks on the Owner window.
Include Country in Address: Provides an option to exclude the owner's country if it is the same as the home country recorded in the company details screen.