Tease
Enter daily tease results for mares in the system.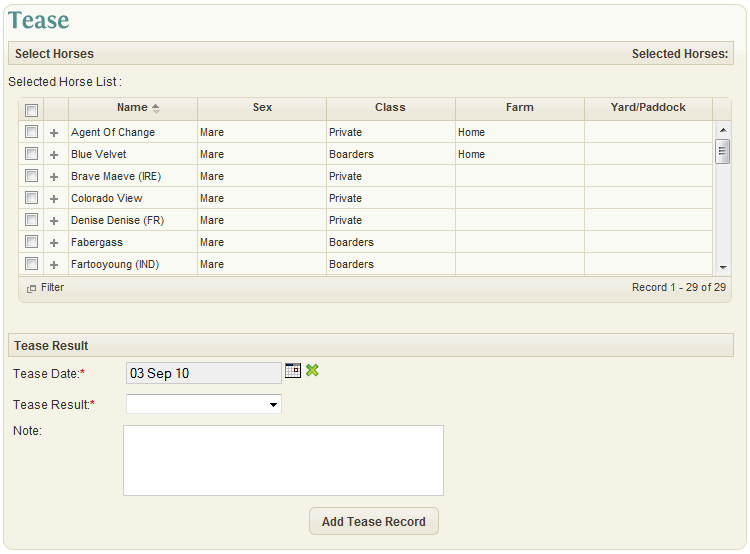 Selected Horse List
The method of selecting mares is the same as described in the Daily Activity window.
To see the previous history of tease results entered for a mare, click the expand icon '+' for the selected mare.

If no records are found, the system will display 'No Tease Records have been entered for this horse.'
Tease Result
Tease Date: (required) The date of the Tease Result. Default is today. Change with date picker if needed.
Tease Result: (required) The result of the Teasing. Choose from the list of values shown, these can be altered in the Settings.
| Result | Symbol |
| --- | --- |
| In Season (I/S) | + |
| Not In Season (NotI/S) | - |
| End of Cycle (Gone Off) | * |
| Unknown (??) | ? |
Tease Note: Optional notes to show with tease detail
Updating
Click the 'Add Tease Record' button.
The System will respond with a confirmation details popup.
A snapshot of the selected Mares with their class and current location info
is shown and the new tease result data is displayed in info box 'Confirm Tease'

Clicking the Save Button will process and create a Tease Result for each of the selected Mares.
Clicking the Cancel Button will cancel the Tease Result entry. If the Tease Result entry was successful, the latest teasing will be available to view in the Selected Horse List snapshot by expanding the details for a selected Mare.
Details of the Tease Result can be edited by clicking the Edit button in Teasing History snapshot for a Mare.
Tease Results can also be deleted by clicking the Delete button on the snapshot.